Beloved in the Lord brothers and sisters!
   In November 2017, an association called the Russian Orthodox Church in Monaco (Eglise Orthodoxe Russe de Monaco, EORM) was registered by private individuals in the Principality of Monaco, namely by Alexander Bolker-Hagerty.
The Russian Orthodox parish of the Holy Royal Martyrs in Monaco draws your attention to the fact that Alexander Bolker-Hagerty, his mother Victoria Hagerty and the assistant Julia Ordning, published photos of services and the clergy of our parish, gave interviews using the name of our parish, without the permission or blessing of its dean.
We particularly underline the fact that all aforementioned actions of these individuals are nothing more than a fraud.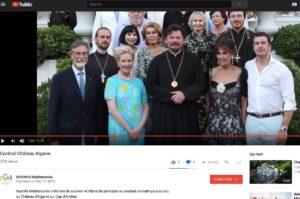 Thus, a photo with, Nestor Bishop of Chersonese and very Rev. Andrei Eliseev, dean of the St Nicholas parish in Nice, taken at a private event in 2017, was mounted in a photo-video montage of the same private event in 2018 and was offered by EORM to various publications on the Cote d'Azur. This photo is private and has nothing to do with the masses, or any other events with the participation of the Russian Orthodox Church (Moscow Patriarchate).
The association which called itself the Russian Orthodox Church in Monaco, is in no way associated with the Russian Orthodox parish in Monaco, or with the Chersonese Diocese or the Russian Orthodox Church of the Moscow Patriarchate.
  Matthew 24:4-26    "Watch out that no one deceives you. 5 For many will come in my name, claiming, 'I am the Messiah,' and will deceive many.